3 Way Conferences – Tuesday 4th August (3.30pm – 8.00pm) and Wednesday 5th August (2.00 – 6.30pm)
Hopefully you will have taken the time to look through your child's Report and Portfolio and have had a chance to talk with your child about what is in them. Clearly there has been a lot of hard work by your child and their teacher to get everything together.
We have decided to use a new format for Reports this year to focus on the full New Zealand Curriculum not just those mandated by National Standards. This is why we have included Inquiry Learning, Health and PE along with The Arts. We wish to continue to build our focus on these areas to ensure more balance in everything we do. You will also notice we have included a section based on the Key Competencies that helps focus on the key skills required to be successful at school.
As part of our review in regards to Reporting to Parents, we have moved to an online booking system for 3 Way Conferences. These can be booked online for at www.schoolinterviews.co.nz utilising the following event code: X7R34. This code is unique for our school only. Once you have booked a Conference time, a confirmation email will be sent to you confirming your booking.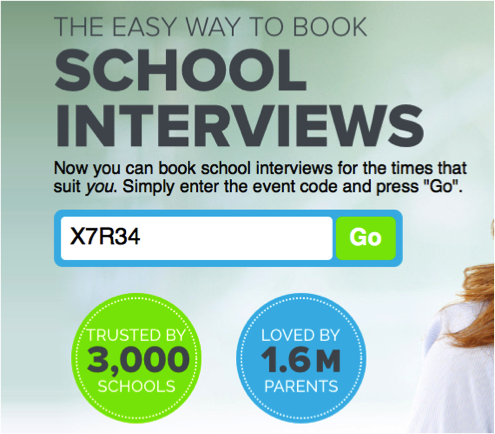 Please note it is a first in, first served basis but we will do our best to accommodate all reasonable requests. We understand that not all families will be able to make these dates but you can arrange other meeting times directly with teachers.
If you don't have access to the Internet, you are more than welcome to pop in or phone Mrs Nicklin in the Office who will be able to do this for you.
Please note we will be finishing at 2pm on Wednesday Afternoon to give everyone the best opportunity to get to these meetings. If you are able to pick up your child at 2pm that would be fantastic. If not we will be running activities outside or in the library during these times, especially for those with sports trainings. Afterschool Care will run as normal from 3.00pm and the Library will be running as an area for brothers and sisters to hang out during Conferences.
Please note that Room 1's 3 Way Conferences will be taking place in Week 5, hence why you will not be able to find booking times for Mrs Allen. We will sent out separate information for this class, closer to the time.
Please take a look at the front cover of the report. On it you will find your child's attendance rate. The Ministry of Education has an expectation of 94% for attendance to ensure every child has the best opportunity to learn. We are currently running at 93.2% average across the school in the middle of winter. You may wish to see how your chlid(ren)'s attendance is tracking in relation to the Ministry's expectations and the school average.
Below is one of the statements from ERO's latest visit to our school. If you would like to download and read the full report, please click on the link above.

Students learn in a respectful and supportive educational environment where they are well supported by teachers who are committed to their wellbeing and learning. Students, including those needing additional support, engage positively in all areas of the curriculum, and make very good progress as they move through the school.
ERO is likely to carry out the next review in three years.

BOOK CLUB ISSUE 5
Paper orders (to office) close Thursday 30th July
On-line orders close Thursday 30th July
There are now two ways to order;
You can either order using the Order Form in the Scholastic brochure paying by cash, cheque (made payable to Scholastic) or credit card. Return your order and money in a named envelope to the school office by the closing date above OR
You can order on-line directly with Scholastic's Linked Online Ordering and Payment for Parents (LOOP).You can place your order and pay on this system and the books ordered will be delivered to school at the same time as the paper orders, you will need to place your order by the on-line closing date above. For this option please go to; http://www.mybookclub.scholastic.co.nz
Sports Draws
Click on the Link below for the appropriate sport to be taken to the association websites:
We are now in the Winter Sports Term with many of the games to start within the next 2 weeks. There is still time to get your child involved with sport, please make that decision as soon as possible as our teams are now set.

We have had a mucky start to the season with changes associated with both Rugby and Netball that have impacted our teams.
In Rugby the Cambridge Junior Rugby are now coming inline with the Nationwide structure which means there has been a change for 8th, 10th and 11th Grades. All this information can be found on the Cambridge Junior Rugby website but the changes are;
8th Grade (under 8's as at the 01/01/2015) is now for those players who are playing tackle rugby for the first time (Year 3 players)
10th Grade (under 10's as at the 01/01/2015) will be Year 4 and 5 players
11th Grade is for ALL Year 6 players
This has meant that many Year 4 players are finding they have been placed into the 10th grade where traditionally players have had 2 years in the 8th grade.
All players should have received a copy of the Rugby Information and Team Information at the end of last term. If you are unaware of your child's arrangements, please pop into the school office.
Netball - as Netball parents/caregivers, you have probably heard of the changes that Netball New Zealand wish to make around Junior Netball, they don't players involved with "competitive games" until Year 5 or 6.
In terms of our teams, we have been working with Netball Association to get as many players on the court and experiencing full games of Netball. This has meant a few changes with the Year 4 teams to get the balance right. We now have those teams all sorted and your child should have received an Netball Information and team sheet information. All Netball draws and information for the local competitions is available at Cambridge Netball website.

Year 3 Fun Ferns are not due to start until the end of May, not the week 2 as we had on the Information Sheet, it appears to be Wednesday 27th May. Coaches of these 2 teams will let you know once details are confirmed.

Hockey - Hockey has gone from 1 team last year to looking like we have 4 teams this year. Its fantastic to see our students trying a different sport. Trainings will continue to be on Wednesday and Games will start on the Friday of Week 3 or 4. This is yet to be confirmed by the Junior Hockey Association but as soon as we know, we will let you know. Confirmation of teams and further information will be sent once final arrangements come through.
Before School Care
Before School Care is now up and running from 7.30am - 8.30am every school day. This is run out of the After School Care Room with Mrs Shortland overseeing the programme. This will also include a breakfast club.
Please ring and book through the school office if you require this service, we will need signed forms before your child(ren) are able to attend. The cost will be calculated in either 30 minute ($2.50) or 1 hour ($5) and billed in the same way as After School Care.
Please note that the school is not open to students until 8.30am every morning, we have placed in this service due to the number of students arriving earlier and earlier to school and after parental requests. Please respect the 8.30am timing for the school to be open.
Facebook Page
The school now has a Facebook page to help keep parents and caregivers in the loop. Please visit our Facebook page and like us, as this will mean you will receive our latest posts automatically. It is an effect way of communicating quickly with our community. Click on the Facebook logo below to go to our Facebook Page.


Welcome
To
Cambridge East
We want our students to become:
Effective communicators
Self motivated learners
Inventive thinkers
Respectful citizens
And have a "can do" attitude
Check out our latest Education Review Office report www.ero.govt.nz